Best Movies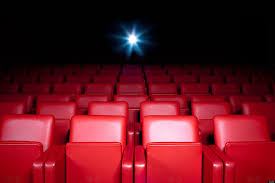 John Wick and John Wick Chapter 2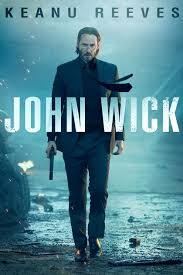 John Wick is a 2014 American neo-noir action thriller film directed by Chad Stahelski and David Leitch and starring Keanu Reeves, Michael Nyqvist, Alfie Allen, Adrianne Palicki, Bridget Moynahan, Dean Winters, Ian McShane, John Leguizamo and Willem Dafoe. The film stars Reeves as John Wick, a retired hitman seeking vengeance for the theft of his vintage car and the killing of his puppy, a gift from his recently deceased wife. Stahelski and Leitch directed the film together, though Leitch was uncredited. John Wick: Chapter 2 is a 2017 American neo-noir action thriller film directed by Chad Stahelski and written by Derek Kolstad. The second installment of the John Wick series, the plot follows hitman John Wick, who goes on the run after a bounty is placed on his head. It stars Keanu Reeves, Common, Laurence Fishburne, Riccardo Scamarcio, Ruby Rose, John Leguizamo and Ian McShane, and marks the first collaboration between Reeves and Fishburne since appearing together in The Matrix trilogy. Principal photography began on October 26, 2015, in New York City. The film premiered in Los Angeles on January 30, 2017, and was theatrically released in the United States on February 10, 2017. It received positive reviews from critics and grossed $165 million worldwide, over four times its $40 million budget and nearly twice the $88 million gross of the original film.The film is yet to be released in major markets such as Australia and Japan in June and July..
Hacksaw Ridge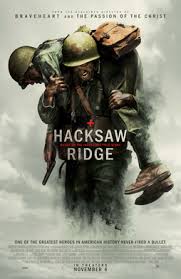 Hacksaw Ridge is a 2016 biographical war drama film about the World War II experiences of Desmond Doss, an American pacifist combat medic who was a Seventh-day Adventist Christian, refusing to carry or use a firearm or weapons of any kind. Doss became the first conscientious objector to be awarded the Medal of Honor, for service above and beyond the call of duty during the Battle of Okinawa. The film was directed by Mel Gibson and written by Andrew Knight and Robert Schenkkan, based on a 2004 documentary about Doss, and stars Andrew Garfield as Doss, with Sam Worthington, Luke Bracey, Teresa Palmer, Hugo Weaving, Rachel Griffiths and Vince Vaughn in supporting roles. It was released in the United States on November 4, 2016, received positive reviews and grossed $175.3 million worldwide
Lights Out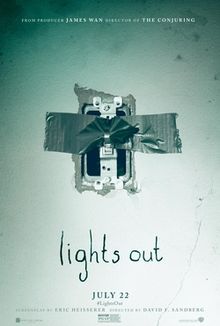 Lights Out is a 2016 American supernatural horror film directed by David F. Sandberg in his major directorial debut, produced by Lawrence Grey, James Wan and Eric Heisserer and written by Heisserer. It stars Teresa Palmer, Gabriel Bateman, Alexander DiPersia, Billy Burke and Maria Bello. It is based on Sandberg's 2013 short film of the same name and features Lotta Losten, who starred in the short.The film had its world premiere at the Los Angeles Film Festival on June 8, 2016, and was released in the United States and Canada on July 22, 2016 by Warner Bros. The film was a box office success, grossing over $148 million and receiving generally positive reviews. A sequel is currently in development.
Django Unchained
Django Unchained is a 2012 American revisionist Western film written and directed by Quentin Tarantino, starring Jamie Foxx, Christoph Waltz, Leonardo DiCaprio, Kerry Washington, and Samuel L. Jackson. Set in the Old West and Antebellum South, it is a highly stylized tribute to Spaghetti Westerns, in particular the 1966 Italian film Django by Sergio Corbucci, whose star Franco Nero has a cameo appearance. Development of Django Unchained began in 2007 when Tarantino was writing a book on Sergio Corbucci. By April 2011, Tarantino sent his final draft of the script to The Weinstein Company. Casting began in the summer of 2011, with Michael K. Williams and Will Smith being considered for the role of the title character before Foxx was cast. Principal photography took place from November 2011 to March 2012 in California, Wyoming and Louisiana.
Madea Goes to Jail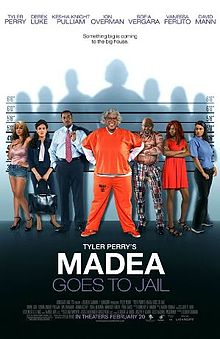 Madea Goes to Jail is a 2009 American comedy-drama film written and directed by Tyler Perry, which was based on his 2006 play. The play and the film deal with Perry's signature character Madea going to prison for her uncontrollable anger management problems. The film was released on February 20, 2009.After a high-speed freeway police chase (seen in Meet the Browns) results in Mabel "Madea" Simmons' arrest, she is placed in an anger management course, and admits her permanent license suspension. Returning home from court, Madea finds a party taking place in her house hosted by her brother, Joe Simmons, who is trying to cheer up Madea. However, Madea is not amused by the festivities and uses a machine gun to scare the party goers away.
FURY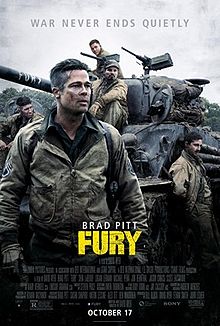 Fury is a 2014 American war film written and directed by David Ayer. The film stars Brad Pitt, Shia LaBeouf, Logan Lerman, Michael Peña, Jon Bernthal and Jason Isaacs. The film portrays US tank crews in Nazi Germany during the final days of World War II. Ayer was influenced by the service of veterans in his family and by reading books, such as Belton Y. Cooper's Death Traps, about American armored units in World War II and the high casualty rates suffered by tank crews in Europe. Ayer aimed for a greater degree of realism in the film than in other World War II dramas.
LOGAN
Logan is a 2017 American superhero film featuring the Marvel Comics character Wolverine, produced by Marvel Entertainment, TSG Entertainment, and The Donners' Company, and distributed by 20th Century Fox.It is the tenth installment in the X-Men film series, as well as the third and final Wolverine solo film following X-Men Origins: Wolverine (2009) and The Wolverine (2013).The film takes inspiration from "Old Man Logan" by Mark Millar and Steve McNiven, which follows a past-his-prime Logan undertaking a final adventure in the post-apocalyptic future